Artificial Intelligence Professional Program
Artificial Intelligence and Big Data are some of the most highly sought after skills in the High-Tech Industry. The demand for data scientists is increasing so quickly, that McKinsey predicts that in the near future, there will be a 50 percent gap in the supply of data scientists versus demand.
Our Artificial Intelligence Professional Program will enable you to gain the skills, experience and certification you need to be successful as an AI or Big Data Professional.  You will learn the best practices and methodologies of how to conduct leading edge Artificial Intelligence and Big Data Projects, and be mentored by some of the best experts in the field. This program is approved by the Knowledge and Human Development Authority (KHDA) of Dubai.
Dates
Location
Instructor's Office Hours
Registration Fees
17 October - 07 November 2020
Dubai Knowledge Park
Wednesdays: 6:00PM - 8:00PM
2,500 AED (680 USD)
KHDA-Accredited Certification
Course Instructor - Ahmed El Koutbia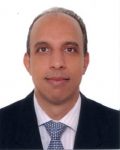 Founder and CEO of Innosoft Gulf, a leading AI and Big Data Education Center in Dubai. Most of the work that I do at Innosoft Gulf involves teaching, consulting and research in Deep Learning, Machine learning and Big Data. In the last couple of years, I have trained hundreds of professionals in these areas.  To develop a local community of AI and Big Data professionals, I started in March 2017, one ofthe largest meet-up groups in Dubai: Innosoft Gulf – Big Data and Artificial Intelligence. At the moment, this active meet-up group has over 3,800 members.
After completing my Bachelor's degree in Information and Decision Science at the University of Illinois at Chicago in 1996, I had the opportunity to work for some of the most prestigious organizations in the US including Sun Microsystems and Chicago Board of Options Exchange (CBOE).  At Sun, I worked closely with the Chief Architect of the Java Center in the architecture, design and development of a Java EE based workflow engine. This work was included in the best selling  book Java EE Patterns.  Currently, I am pursuing graduate studies in AI at Stanford University, where I worked recently on a self-driving project that uses Fully Convolutional Neural Networks for Automated Traffic Lane Detection (Click here to download the project report).
Course and Certification Schedule
Event
Date
Description
Timing

Live Session 1

In-Person or Zoom Meeting
18 October 2020

Meet and Greet


Course Introduction


Python Fundamentals


Assignment 1

7:00PM - 8:30PM

Lecture Video 1

18 October 2020

Python Environment Setup


Data Types, Strings, Lists, Tuples

Self-Paced

Lecture Video 2

19 October 2020

Sets, Dictionaries


Selection Statements, Loops


File Input and Output


Functions, Python Modules


Object-Oriented Programming – Classes



Self-Paced

Assignment 1 Due

20 October 2020 at 6:00PM

Live Session 2

In-Person or Zoom Meeting
20 October 2020

Q & A: Lecture Videos 1 and 2


Assignment 1 Solution


Assignment 2

7:00PM - 8:30PM

Lecture Video 3

21 October 2020

Objected Oriented Programming (Code Reuse, Inheritance, Composition)


Data Analysis with Pandas


Data Analysis with Numpy

Self-Paced

Lecture Video 4

22 October 2020

Data Analysis with Numpy – Continued


Practical Data Analysis Project



Self-Paced

Assignment 2 Due

24 October 2020 at 6:00PM

Live Session 3

In-Person or Zoom Meeting
24 October 2020

Q & A: Lecture Videos 3 and 4


Assignment 2 Solution


Assignment 3

7:00PM - 8:30PM

Lecture Video 5

25 October 2020

Introduction to Machine Learning


Supervised, Unsupervised and Reinforcement Learning


Supervised Learning (Classification, Regression)


Linear Regression


Building a Predictive Model for a Real Estate Firm

Self-Paced

Lecture Video 6

26 October 2020

Data Preparation (Handling Missing Values and Categorical Features)


Building a Classification Model with Logistic Regression


Evaluating Classification Models (Accuracy, Precision, Recall, F1-Score)


Bias-Variance Tradeoff

Self-Paced

Assignment 3 Due

27 October 2020 at 6:00PM

Live Session 4

In-Person or Zoom Meeting
27 October 2020

Q & A: Lecture Videos 5 and 6


Assignment 3 Solution


Assignment 4

7:00PM - 8:30PM

Lecture Video 7

28 October 2020

Classification – K-Nearest Neighbors (KNN)


Tuning a KNN Model


Unsupervised Learning – K-Means Clustering


Data Visualization with Seaborn and Matplotlib

Self-Paced

Lecture Video 8

29 October 2020

Introduction to Deep Learning


Neural Network Representation


Forward Propagation


Activation Functions


Cost Functions


Back-Propagation with Gradient Descent


Solving an Image-Classification Problem with Deep Learning



Self-Paced

Assignment 4 Due

31 October 2020 at 6:00PM

Live Session 5

In-Person or Zoom Meeting
31 October 2020

Q & A: Lecture Videos 7 and 8


Assignment 4 Solution


AI-200 Certification Exam Prep

7:00PM - 8:30PM

AI-200 Certification Exam

7 November 2020

In-Class Exam




Dubai Knowledge Park, Block 6, Office F02




3:00PM - 5:00PM
Ahmed is an excellent instructor that has elevated my understanding of Python, AI, and Deep Learning. It has encouraged me to further my educational development in this subject which will help me in my profession. Innosoft Gulf is one of the few educational institutes in the GCC that follows current and future developments in IT and AI. I would strongly recommend this to anyone interested.
I have completed 2 courses with Innosoft: first the AI professional program and then the Deep Learning Program. I can honestly say that the support and teaching available here is exceptional:
I've attempted to learn similar skills in my own time in the past, and have always found it difficult to persist beyond the beginner level. The course at Innosoft is intensive - 3 hours a day, over 10 days. This immersive approach, in my view, is the absolute best way to learn these difficult skills. The instructor took me from an absolute beginner to being able to fully engage with the Data Science literature available now, both from a theoretical and a coding point of view.
Very rewarding course. Rare to find a Deep learning course in Dubai that teaches concepts from scratch and provides practical applications. Will definitely recommend.
A great course with a distinguished teacher: Mr. Ahmed El Koutbia
It is a great program! It is a hands-on course with many examples providing you knowledge about the algorithms and successful approaches. The best thing about this course is that you learn how to work with data.
The workshop on big data and machine learning was an excellent introduction to practitioners considering using data science. Ahmed demonstrated considerable teaching talent rooted in his long expertise with systems development.
Innosoft Gulf Institute is educating students breaking and revolutionary techniques with focus on future trends in CIT industry. Mr. Ahmed is well updated on latest technologies related to Big Data, AI, Machine Learning, etc. Rated as 5 star in terms of overall deliverance.
The most important thing is to be convinced of what you are studying. It's not just about teaching... I'm taking four courses at Innosoft Gulf institute, and I think it's much better than my bachelor's degree.
Innosoft Gulf really gave me a head start for college. The teacher was amazing and I really learned a lot. I highly recommend the Python, Java and Machine Learning courses.